It is always interesting to watch the city, the city or the nature from a high place! Especially when the fresh air given by the highs combines with the natural riches and history, it attracts you more. Where else can you find such a delightful landscape, such as the Pierre Loti hill in Istanbul, you are now on the right travel blog. Izmir Cable Car (Izmir Teleferik) offers you the pleasure of heights. Even though winter tourism always comes to mind when we say cable car, you will see that it is possible to enjoy the view of the four seasons in İzmir Teleferik.
You need to buy a ticket for the cable car located opposite Izmir Economy University in the district of Balcova. While the ticket office is open from 9 am to 9 pm, the cable car continues to serve till 10 pm.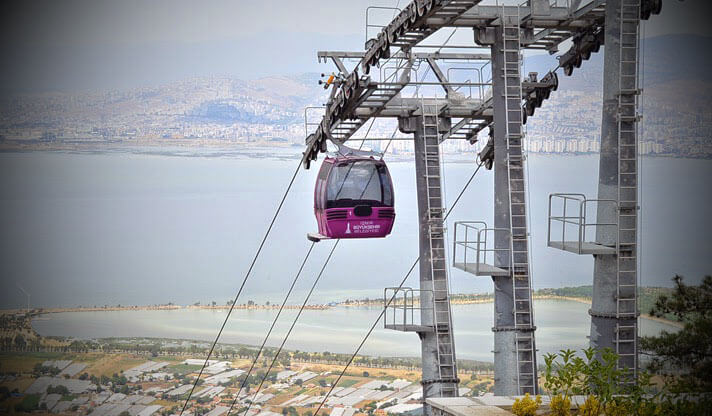 Children are not charged until the age of five. Full ticket fare is set at 6 TL. The cable car is both a means of transportation for the people of İzmir and a recreation and promenade area. Having started to operate in 1974, Teleferik welcomed the residents of Izmir and tourists for many years. It was closed in 2007 when it was reported that the mechanical system in the beginning of 2007 was quite worn out. This process, which started in 2007, is very long. This has been a big part of many negative situations such as getting the tenderer, cancellation, inadequacy of the field company and so on. Eventually, at the beginning of August, the cable car, which could be re-opened, was allowed to operate with controls that were both modern and with serious tests. The 8-person cable car with twenty wagons will repeat a three-minute journey throughout the day. It is expected to serve with 1200 passenger / hour capacity. Like the old days, the cable car continues to add color to İzmir's life.
Here are some of the places you should go in Izmir: Ephesus Ancient City, Agora Open Air Museum, Izmir Clock Tower, Izmir Historical Lift, Key Museum Izmir.
The cable car is designed as a crucial facility with viewing terraces, binoculars and a promenade area. İzmir Balçova Cable Car is a great place where you can enjoy the view of İzmir from the height.
Cable Car Trip
You will have to wait a bit before the ski lifts. For this reason it would be good if you could visit it outside of busy times and hours if possible. However, you should definitely go early if you are going on the weekend. On this count, you need to wait fewer rows for boarding, and you can start your journey without overcrowding.
After a pleasant Aegean view, you can plan your meal in the premises. Mostly there are meat grill products here. If you like meat dishes, it will not be a problem for you. Just like every other similar place, taking care of cleanliness in the area of İzmir Balçova Cable Car will prevent negative images. After dinner you can go for a drink or enjoy tea and you can continue to enjoy the view.
Izmir Cable Car Cable Car Operating Hours
Working hours: You can use the cable car between 10:00 – 22:30. Transportation total 3 min.
Cable Car Current Ticket Prices
Ticket sales are available from 10:00 to 21:00.
Ticket Price: 8 TL (Turkish Lira).
Children: 0-5 year olds are not charged.
Where is Izmir Balçova Cable Car and How to Go?
Address: Teleferik, 35330 Balçova / Izmir
How to get there: Izmir Cable Car is in the Balçova district of Izmir. You can use city buses to get here. If you reach İzmir University of Economics by any means, you can walk to the cable car entrance. For an enjoyable and memorable Izmir tour and delicious tastes, Teleferik will be an ideal choice.