Rumeli Fortress is one of the symbols of Istanbul. Istanbul suffered many besieges before the siege of Fatih Sultan Mehmed in 1453. The Roman city walls surrounding the city could stop all previous encirclement. The very needs of the city were reinforced by sea when they were surrounded by very long sieges.
The Rumeli Fortress, located in Sarıyer, Istanbul, covers an area of 30 hectares. In the narrowest and driest part of the 600 meters of the Istanbul Bosphorus opposite the Anatolian Fortress, it is a feeling built in the form of "Mohammed" to be read in the old letters when viewed from afar. The three large towers of the fortress, completed in a short period of 90 days, have the world's biggest castles.
Related: You should also see other touristic places about Ottoman: The Blue Mosque or Hagia Sophia Museum.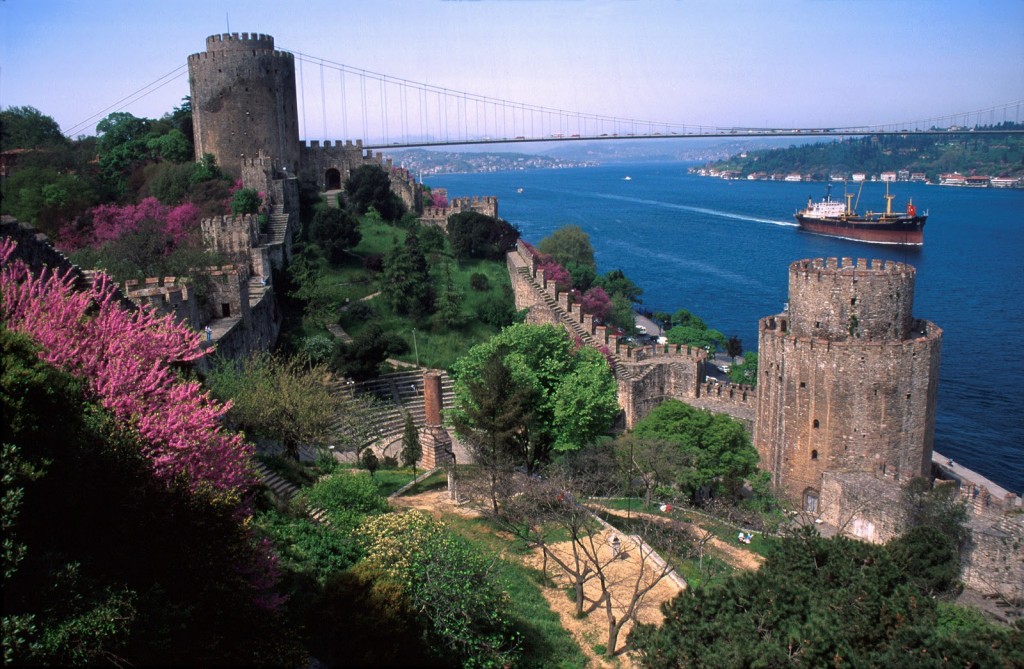 The name of Rumelihisar is Kulle-i Cedide in Fatih foundations; Yenice Hisar in Neşri history; Boğazkesen Hisarı in Kemalpaşazade, Aşıkpaşazade and Nişancı history. It is the narrowest point to ensure maritime safety.
Rumeli hisari was built opposite the fortress built by the Turks on the opposite shore. It was built with the aim of preventing aid and reinforcements that might come from the Black Sea during the siege of Istanbul. This military structure was completed in an incredibly short period of 4 months in 1452. This great and strong fortress of the Middle Ages, in 1453, lost its strategic significance following the conquest of Istanbul by the Turks.
This beautiful example of classical Turkish castle architecture adorns the Bosphorus with all its grandeur. Following the repairs made in the 1950's, it was turned into a museum. Hisar is used as an open air theater in Istanbul festivals held every year. The whole of the fortress can be watched, best of all, from the Asian foothills against the Bosphorus or from the ferryboat on the Bosphorus.

Rumeli Fortress is a Great Challenge of the History
The young Ottoman Sultan, who decided to take Istanbul, took some measures before the siege. The conquest is very difficult unless you are in control of the Istanbul Bosphorus and the passing ships are under control. For this, it was necessary to have a castle to control the Bosphorus. Sultan Mehmed Han, who returned from the Karaman campaign at the end of 1451, crossed the Anatolian Fortress region and studied the situation of the Bosphorus very carefully. The Anatolian Fort, which had been done before, was not enough to take control of the ships coming from the Black Sea because of the inability of the balls and the throwing rods to be effective at that time. Therefore, in order to prepare for the conquest of Istanbul and to control the Bosphorus, the plans for the construction of the castle, which was built by Sultan Mehmed Han himself, began in March 1452. Sultan Mehmed Han gave the following response to the disciples of the Byzantine Emperor Constantine Dragazes who wanted to prevent the construction of the castle:
"… It is not possible to prevent me from doing what I want on my own estate. For this you have neither right nor power. I have two shores. I have the Anatolian coast. Because the people come from the Ottomans. I have the Rumelian coast. Because you do not know how to defense. You are going to tell your master that the present Ottoman Sultans are not like those before! "