Eyup Sultan Mosque is a mosque built after the conquest of Istanbul. It was built by Fatih Sultan Mehmet in 1458. In 1800, all the pieces except the minarets were demolished and renewed. Today the mosque of the Ottoman heritage welcomes its guests with all its magnificence.
Eyup Sultan Mosque History
The name of the mosque comes from Khalid bin Zayd Abu Ayyub El-Ensari, who first adopted Islam and made the flag of the Prophet Muhammad, and his mosaleum is here. There is a spring at the tip of the mosaleum and there is a century-old plane in its aviary. The fountain of the house has begun to be thought to be sacred in time. This single-domed tomb differs from the octagonal structures by this feature and attracts the attention of researchers.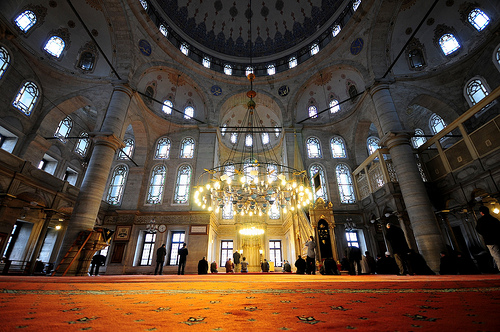 Eyup Sultan Mosque, which is located on top of the list of places to visit in Istanbul, is visited by thousands of people every day for both worship and sightseeing. The mosque and the tomb have a different prescription for the Muslim world. The building in Eyüp district was built with Ottoman architecture. The tombs of important and famous people such as Sokullu Mehmet Pasha, Beşir Fuad, Necip Fazıl and Fevzi Çakmak can be seen in Eyüp Sultan.
In addition to religious and historical affairs, it is also a place for the Sultan's throne ceremonies and war preparations. It started here in the Fatih period and continued here after the tradition of the Sultan's sword-bending and management transfer. Pierre Loti Hill is another place that comes to mind as Eyup Sultan Mosque. At Pierre Loti, located at a high point in Istanbul, you can have a drink while watching the cityscape.
The poet and writer Loti who fell in love with Istanbul, frequently came here and watched the beautiful and insatiable view of the Golden Horn at that time. Full moon nights make this memorable memories unforgettable for those who look at it from this small viewing terrace. Like Pierre Loti, you can dive into memorabilia and maybe you can take inspiration from this amazing city and write a few lines of poetry.
Of course you want to know where you can go in Istanbul after visiting this historical mosque. In our opinion, Istanbul, one of the most beautiful cities in the world, will satisfy you with history and natural beauty. Firstly you should visit Galata Tower, The Blue Mosque and Istiklal Street in Istanbul. Then if you wish you visit another beautiful Turkishh city Izmır and see Agora Open Air Museum and Ephesus Ancient City. In addition, you definitely see the capital city of Turkey and visit Anitkabir. You can reach these two other cities of Turkey from Istanbul by plane. The hospitable Turkish people will definitely help you to see this wonderful country.
Eyup Sultan Mosque Visit Information
Address: Islambey Mah., 34050 Istanbul
Transportation: You can come from Ayvansaray stop by Metrobus, Topçular by tram, and Zalpaşa stop by bus.
Visiting Days and Hours: It is open for free except during worship hours.